Everyone knows someone who's getting hunched and sore.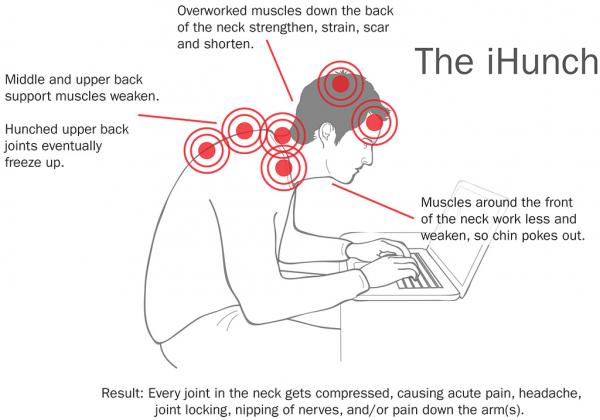 Recent indications are that the iHunch is now the biggest upper spinal problem in the computer-savvy world.  Statistically, one in every six people reading this will have acute pain in their upper back or neck, or headaches coming from the neck - right now.  And everyone knows someone who's hunched and sore - it's a tsunami.  Wikipedia has a good article on the iHunch.
This isn't unusual or mysterious - why lots of bending causes problems is well understood.  What has exploded the numbers are laptops, tablets and smartphones.  These are not like desk top computers - they cannot be set up ergonomically correctly, because you can't separate their screens from their keyboards.  You have to hunch to use them.
So ergonomics, standing desks, etc. don't help much with this particular common problem.  What you can do is treat and look after your spine so it'll handle lots of hunching - over phones or computers or anything else.  That's what the Backpod and its home programme of stretching, strengthening, massage and posture are for.
Most other treatment approaches don't cover all the bases.  Gyms strengthen muscles; yoga stretches them, massage massages them; chiropractors and osteopaths click the joints free temporarily; medications and acupuncture try to suppress the pain but don't treat the problems causing it.  They're not wrong, but they all cover just one part of the problem, so you usually get results that are limited and don't last.
You need to deal to each part of the problem - it's the collection that works.  The simple home programme is in the Backpod's user guide, and also as videos on this page (see below).  The reasons why the Backpod itself is also needed are explained on the BACKPOD page.